Aquiles Morales - Pianist and choir conductor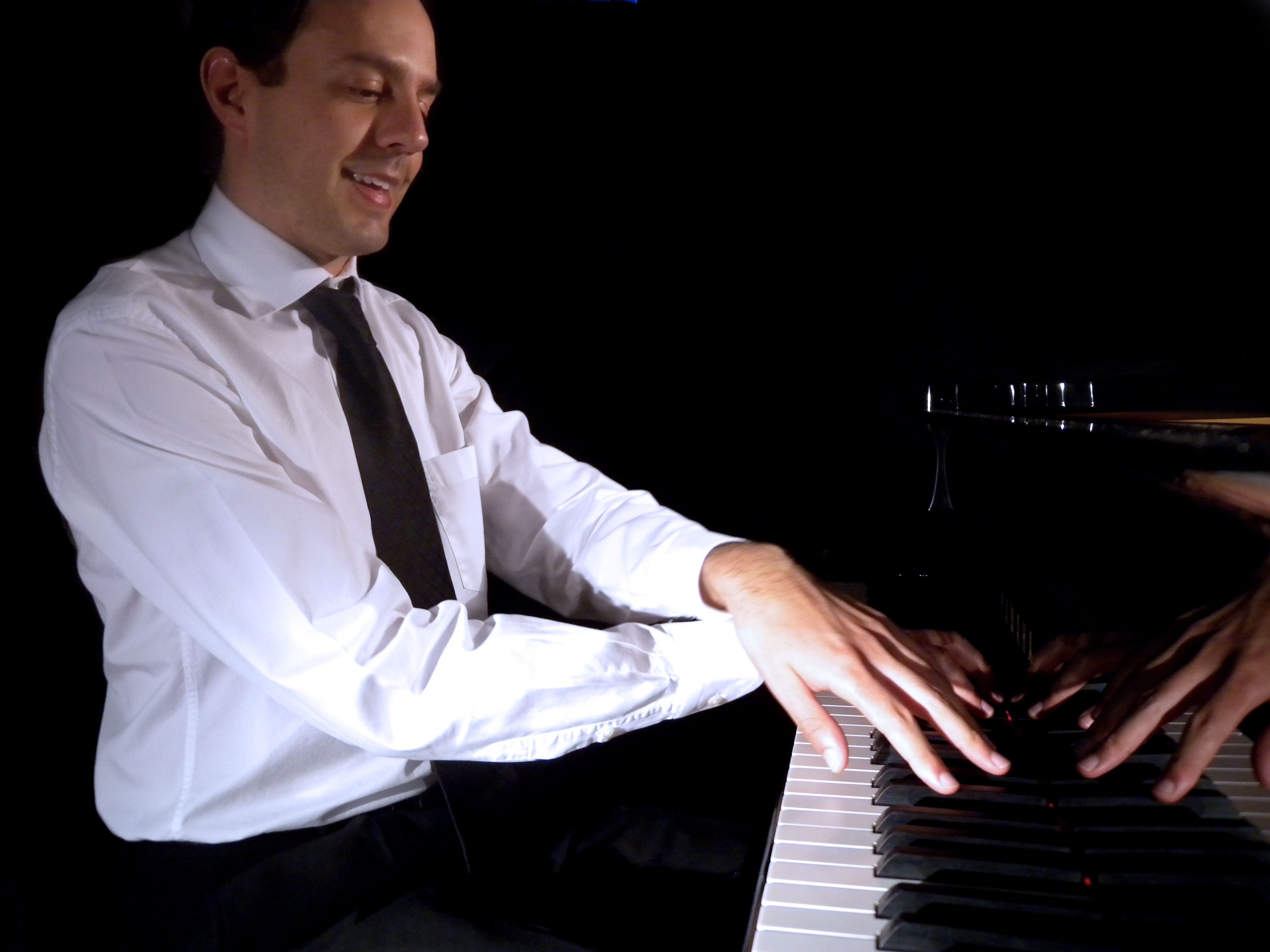 He was born in Mexico City and began his piano studies at the National School of Music in 1996, where he studied with Eva del Carmen Medina. In 1999 he continued his studies in Paris in the École Normale de Musique Alfred Cortot where he obtained the diploma in 2004. He was a student of the teacher Dusan Tadic and later of the soloist Françoise Parrot-Hanlet. He participed in a number of competitions, gaining second place in the Sucy-en-Brie National Piano Contest. In 2004 he was admitted in the École Nationale de Musique de Créteil where he carried out specialization studies with the teacher Christophe Vautier, also participating in master classes in Nice and Courchevel with Conservatoire National Supérieur de Musique (C.N.S.M.) teachers Jacques Rouvier and Prisca Benoît.

He returned to Mexico in 2005 and continued studying with the renowned pedagogue Néstor Castañeda. He has appeared as a soloist and in chamber music groups at the most important concert halls in Mexico, France, and the United States. He has performed as a soloist with orchestras conducted by Francisco Téllez and Arturo Enrique Diemecke.

In 2006 he recorded his first CD 32 Variations/Variations, and in 2009 [post] Sturm und Drang. In April 2015 he recorded a new CD with music written by Ravel, Debussy, and Franck. This production will be ready during the next months.  
In 2013 and 2014 he studied at the Mozarteum University's Sommerakademie with the French pianist Dominique Merlet.
From 2008 he began expanding his musical horizons to choral music. He received his choral conducting training by directors Alberto Balzanelli (Argentina), Leo Kraemer (Germany), Konrad von Abel (Germany), student of Sergiu Celibidache, and Simon Carrington (UK), founding member of the King's Singers.

In February 2015 he was chosen as the director of Mexico City Choir.

Five years ago he became the director of the Superior School of Music Youth Choir with whom he performs regularly. Some of the choir performances include Maurice Duruflé's Requiem on Opus 94.5 FM, Beethoven's Choral Fantasy accompanied by the school orchestra conducted by maestro Enrique Diemecke, the musical and scenic project Coros y Arias de Ópera at the Blas Galindo Auditorium, Oh Lord, I wanna be in that Number ! Gospel and Spirituals at the Soumaya Museum, and Délicieux, a French music feast.

He is also the founder of Poder Coral MX where Coro Délicieux and Coro UNO come from. He performs with them throughout the year.

He studied voice with the mezzo-soprano Armelle Orieux in Paris and later with the soprano Gabriela Miranda in Mexico.
Since 2006, he shares his musical experience as a teacher in the Superior School of Music. He worked as an accompanist and is currently in charge of the piano for composers, and choir classes.
In 2007 he worked on the staging of the opera Lucia di Lammermoor at the Mexico's City opera hall, Bellas Artes. He also participated as a pianist in the 2006 production of The Magic Flute by the National School of Music Opera Company.
Eventos anteriores
Museo Soumaya, Blvrd. Miguel de Cervantes Saavedra, Ciudad de México
Museo Casa de la Bola, Calle Parque Lira 136, Ciudad de México